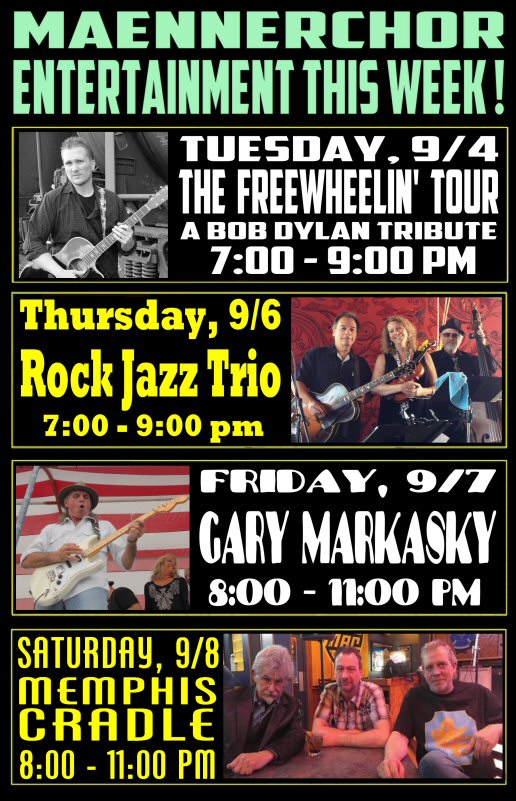 OKTOBERFEST WILL BE SUNDAY, SEPTEMBER 30, 3:00 – 7:00 PM!
TUESDAY: BURGER AND DOGS NIGHT, PLUS THE FREEWHEELIN' TOUR (BOB DYLAN TRIBUTE), 7:00 – 9:00 PM
Stop in, say hello to Hennessy, and enjoy one of our many variations of the classic hamburger and hot dog. Yuengling pints are $1 all day!
The Freewheelin' Tour (a tribute to Bob Dylan) returns to the Club! New Castle's Jason Nuzzo does an excellent rendition of the best of singer/songwriter Bob Dylan in this very well-performed and entertaining tribute.
WEDNESDAY: PIZZA NIGHT
Stop in, say hello to Amy, and enjoy one of our many variations of artisan pizzas. Miller Lite pints are $1 all day!
THURSDAY: THE ROCK JAZZ TRIO, 7:00 – 9:00 PM
The Rock Jazz Trio hails from the Slippery Rock/Grove City area. With Jane Gregg on violin, Tony Bellassai on upright bass, and Dennis Grosky on acoustic guitar and vocals, our music is "gypsy jazz," an upbeat style of music made famous by Django Reinhardt in the 20's, 30's, and 40's. We also play the music of Gershwin , Mancini, Jobim, and Sinatra, all in the gypsy jazz vein. Our music has a vintage feel to it that will keep you tapping your toes
FRIDAY, THE GARY MARKASKY TRIO, 8:00 – 11:00 PM
Warren OH guitar legend and former guitarist for the Michael Stanley Band leads a trio of talented musicians who play a variety of classic rock covers and plenty of great Michael Stanley Band covers! It really is the next best thing to being there in Cleveland listening to MSB in the 1980's!
SATURDAY, MEMPHIS CRADLE, 8:00 – 11:00 PM
This fantastic Akron 3-piece blues band features the amazing guitar talents of Joe King (guitar), Gary Sands (bass), and Scott Turner (drums). They play a mix of blues originals and covers, and always put on a great show!
Our draft beer selections are always changing
On tap are Rogue Marionberry Sour, Blue Moon, Lagunitas Brown Shugga', Sierra Nevada Pale Ale, Troeg's Sunshine Pils, Ommegang Short Sleeve Saison, Erie Brewing Soleil Raspberry-Lemon Shandy, Knockin' Noggin Cranberry Hard Cider, Spaten Original, Kostritzer Schwarzbier, Weihenstephaner hefeweizen, and Hofbrau Original !
On deck.. Dogfish Head 60 Minute IPA, Victory Prima Pils, Victory Hop Devil IPA, Southern Tier Harvest, and Dogfish Head Mixed Media
Some dates to look forward to

Weds. Sept. 12 – Karaoke, with KJ Eddie K, 7:00 – 10:00 pm
Thurs. Sept. 13 – Diane & Terry McCabe, 7:00 – 9:00 pm
Fri. Sept. 14 – Randy Velez, 8:00 – 10:00 pm
Sat. Sept. 15 – Anthony the Entertainer, 8:00 – 11:00 pm
Tues. Sept. 18 – Jeff Welsh, 7:00 – 9:00 pm
Thurs. Sept. 20 – Mike Adams, 7:00 – 9:00 pm
Fri. Sept. 21 – Sonny Needs Money, 8:00 – 11:00 pm
Sat. Sept. 22 – Waterfire After the Fire Party with the Hawkeyes and the Outside Voices, 8:30 – midnight
Thurs. Sept. 27 – Nick Allegro, 7:00 – 9:00 pm
Fri. Sept. 28 – Average Jane, 8:00 – 11:00 pm
Sat. Sept. 29 – KGB, 8:00 – 11:00 pm
Sun. Sept. 30 – Oktoberfest in the Festhalle, 3:00 – 7:00 pm