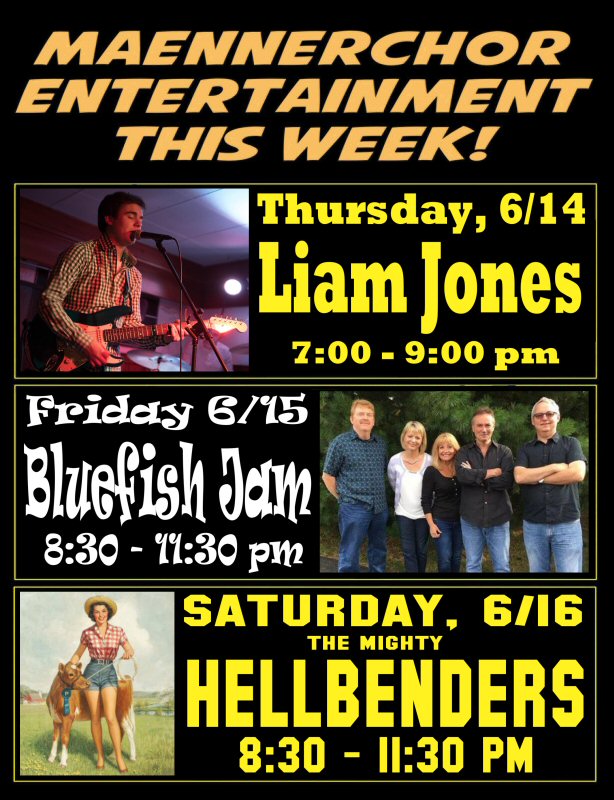 THE BIERGARTEN IS NOW OPEN

Early renewals and new member renewals for the 2018-2019 membership year have begun! Orange cards are expiring June 30. If you have a friend or family member that's been holding off on signing up for a membership, now is the time to do it! New members will receive 13 months of membership for only $10!

FOOD SPECIALS:

Tuesday – Burger, Brats and Dogs Night, Special:
Wednesday – Pizza Night, special pizza: Breakfast Pizza
Thursday – Full Menu, special: TBD
Friday – Full Menu, special: Cajun Mahi Mahi with Quinoa and Spinach Pilaf
Saturday – Full menu, special: TBD

TUESDAY: BURGER AND DOGS NIGHT
Stop in, visit Leann, and enjoy one of our many variations of the classic American hamburger or hot dog! Now featuring Brats and soup as well! As always, we feature $1 Yuengling pints all day!
WEDNESDAY: PIZZA NIGHT
Stop in, visit Amy, and enjoy one of large selection of personal artisan pizzas! Miller Lite pints are $1 all day!
THURSDAY: LIAM JONES, 7:00 – 9:00 PM
Liam is a Youngstown-based acoustic groove rock artist and member of the band The Bees Trees. He plays a wide variety of music from rock,folk, jazz, and bluegrass.
FRIDAY: BLUEFISH JAM, 8:30 – 11:30 PM
From the Sharon/New Castle, PA area, drawing on influences from the great masters of jazz, fusion and rock, this band performs covers of John Mayer, Van Morrison, Bonnie Rait, Steely Dan, Norah Jones, Stevie Wonder, BB King and Ray LaMontagne. This is an extraordinary collaboration of talented musicians sharing their life-long passion for music. Members include, Karen Douds (Vocals & Keyboards), Paul Douds (Guitar), John Evans (Bass), Carl Marks (Drums), Maria Marks (Vocals & Keyboards).
SATURDAY: THE MIGHTY HELLBENDERS, 8:30 – 11:30 PM
The Mighty Hellbenders return to the Club! This trio consists of Mike Kovach (guitar), Tom Smegal (bass), and Gregg Wormley (drums). They play a variety of rock/pop hits and always put on a great show!