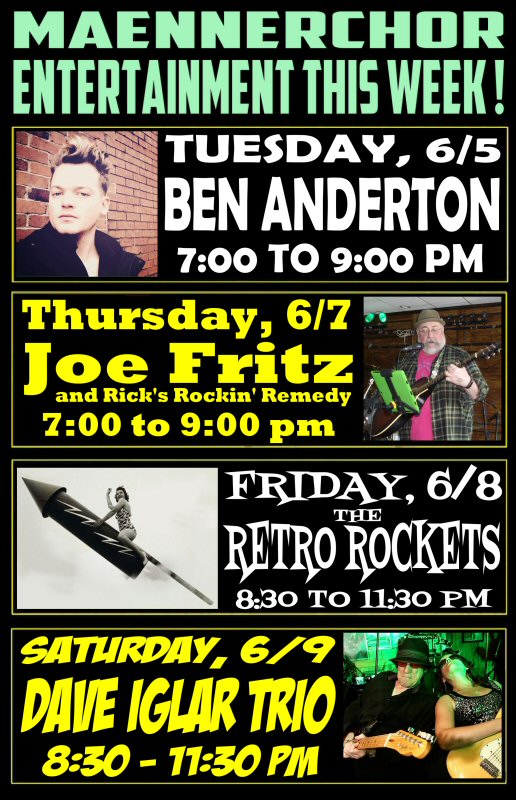 THE BIERGARTEN IS NOW OPEN!
Early renewals and new member renewals for the 2018-2019 membership year have begun! Orange cards are expiring June 30. If you have a friend or family member that's been holding off on signing up for a membership, now is the time to do it! New members will receive 13 months of membership for only $10!

FOOD SPECIALS

Tuesday – Burger, Brats and Dogs Night, Special: TBD
Wednesday – Pizza Night, special pizza: TBD
Thursday – Full Menu, special: TBD
Friday – Full Menu, special: Sweet and tangy glazed, baked Wild Salmon served with vegetable medley Brown Rice
Saturday – Full menu, special: TBD

TUESDAY: BURGER AND DOGS NIGHT, PLUS BEN ANDERTON FROM 7:00 TO 9:00 PM
Stop in, visit Leann, and enjoy one of our many variations of the classic American hamburger or hot dog! Now featuring Brats and soup as well! As always, we feature $1 Yuengling pints all day! Plus, local guitar great Ben Anderton performs a variety of rock and pop covers for your listening enjoyment!
WEDNESDAY: PIZZA NIGHT
Stop in, visit Amy, and enjoy one of large selection of personal artisan pizzas! Miller Lite pints are $1 all day!
THURSDAY: JOE FRITZ AND RICK'S ROCKIN' REMEDY, 7:00 – 9:00 PM
From Newton Falls, Joe returns, and will perform his signature style of light rock/singer-songwriter favorites on acoustic guitar, backed up with bass and percussion!
FRIDAY: THE RETRO ROCKETS, 8:30 – 11:30 PM
Kate Marvenko (vocals) and Ed Parady (guitar) of Uncharted Course fame added former Human Beinz bassist Mel Pachuta to round out this talented trio. They play rock/pop covers from multiple genres and generations.
SATURDAY: THE DAVE IGLAR TRIO, 8:30 – 11:30 PM
This Pittsburgh-based trio has performed at the Club many times. Gifted guitarist Dave Iglar (of Forcefield, Dave & Shari fame) leads this trio of exceptional musicians including his daughter Andrea (saxophone and guitar), and Mark DeMeno (guitar/bass). Come and see the rock-n-roll Guitarnival!