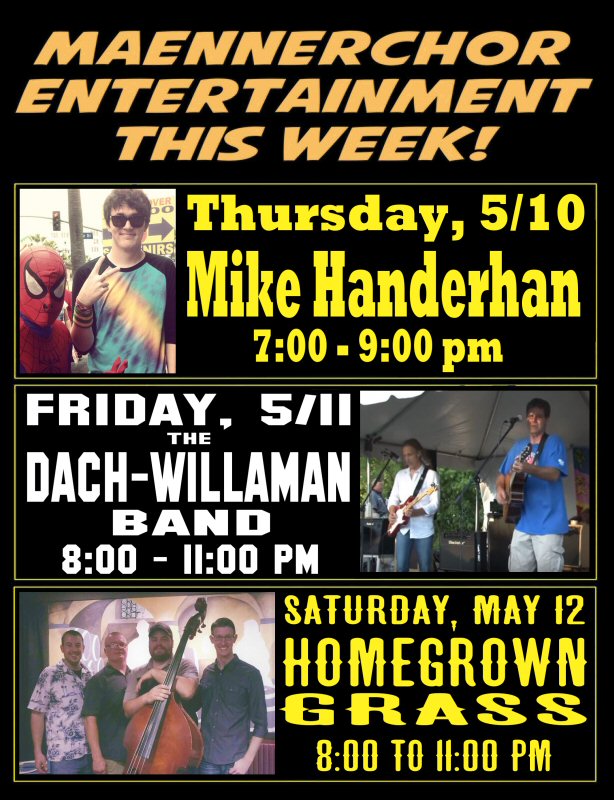 ATTENTION MEMBERS! THE APOLLO MAENNERCHOR SINGERS ARE LOOKING FOR MORE MEMBERS TO ADD TO THE CHOIR. IF YOU HAVE A VOICE THAT CAN HELP, PLEASE EMAIL YOUR CONTACT INFO TO maennerchor@hotmail.com
FOOD SPECIALS:

Tuesday – Burger, Brats and Dogs Night, Special: Pork Sandwich with Pepper Jack Cheese topped with Jalapeno and Honey Mustard
Wednesday – Pizza Night, special pizza: Pork Pierogi Pizza
Thursday – Full Menu, special: Pork & Sauerkraut Goulash served with Mashed Potatoes
Friday – Full Menu, special: Pesto crusted Mahi Mahi with Lemon Butter sauce served with Brown Rice
Saturday – Full Menu, special: Roast Beef au jus served with Mashed Potatoes

TUESDAY: BURGER AND DOGS NIGHT
Stop in, visit Leann, and enjoy one of our many variations of the classic American hamburger or hot dog! Now featuring Brats and soup as well! As always, we feature $1 Yuengling pints all day!
WEDNESDAY: PIZZA NIGHT
Stop in, visit Amy, and enjoy one of large selection of personal artisan pizzas! Miller Lite pints are $1 all day!
THURSDAY: MIKE HANDERHAN, 7:00 – 9:00 PM
From Mercer, talented singer/guitarist Mike Handerhan joins us for the first time as a headline act. Stop in and welcome him to the Club!
FRIDAY: THE DACH-WILLAMAN BAND, 8:00 – 11:00 PM
Local vocal, guitar, and songwriting legends Terry Dach and James Willaman join forces as a power duo once again!
SATURDAY: HOMEGROWN GRASS, 8:00 – 11:00 PM
Returning once again are local Bluegrass greats, Homegrown Grass. Their members include Matt Ross (Lead guitar, Mandolin, fiddle, vocals), Dustin Terpenning (Banjo, vocals), Fred Theiss (Guitar, Lead vocals), and Zachary Rearick (Bass, vocals).