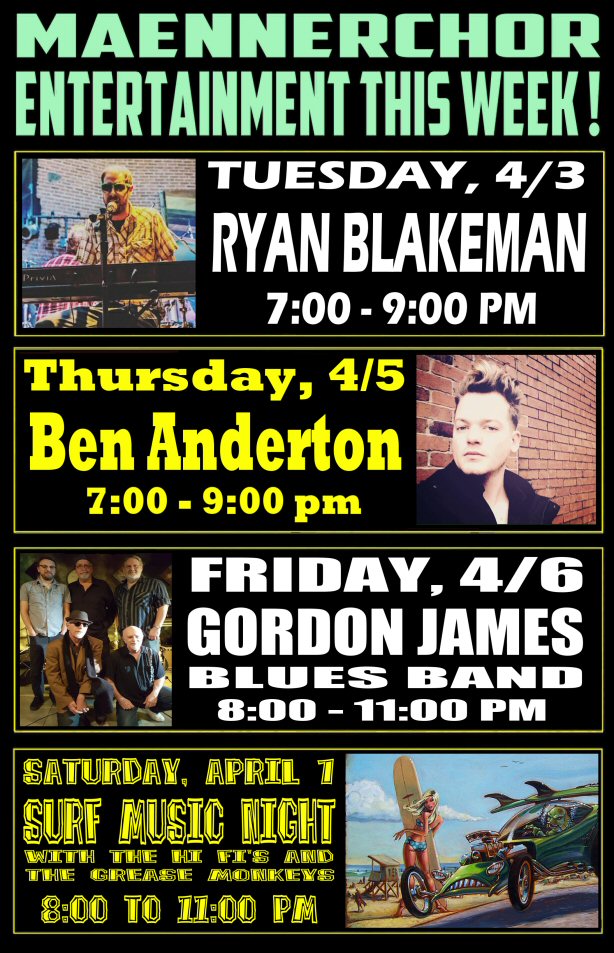 FOOD SPECIALS:

Tuesday – Burger, Brats and Dogs Night, $1 off dogs!
Wednesday – Pizza Night, special pizza:
Thursday – Full Menu, special: Classic Reuben Sandwich
Friday – Full Menu, special: Cajun Mahi Mahi with Mango Salsa and brown Rice
Saturday – Full Menu, special: Chicken Schnitzel Sandwich

TUESDAY: BURGER AND DOGS NIGHT with RYAN BLAKEMAN, 7:00 – 9:00 PM
Stop in, visit Ashley, and enjoy one of our many variations of the classic American hamburger or hot dog! Now featuring Brats and soup as well! As always, we feature $1 Yuengling pints all day! Plus, Youngstown's Ryan Blakeman is a talented pianist and songwriter whose American musical style recall artists like Ben Folds. He plays and sings original tunes and covers. Stop in and check him out!
WEDNESDAY: PIZZA NIGHT
Stop in, visit Amy, and enjoy one of large selection of personal artisan pizzas! Miller Lite pints are $1 all day!
THURSDAY: BEN ANDERTON, 7:00 – 9:00 PM
Ben has been a regular at the Club for years, often found doing sound engineering for bands such as Junction PA, Reissue, and for many of our major hall events and Blues festivals. …as well as a former open-mic regular. Ben is also an accomplished guitarist, and has been performing as a solo act around the valley for years. Stop in and check him out!
FRIDAY: GORDON JAMES BLUES BAND, 8:00 – 11:00 PM
Returning to the Club again is the high-energy, valley-based Gordon James Blues Band. The band which has performed at all of our Blues Fests, features Joe Biro (vocals & harmonica), Jim Jorewicz (guitar), P.J. Nespor (drums), Rick Hill (guitar), and Dean Welch (bass). Their style is blues you can dance to, an eclectic style style of blues/rock with a creative edge propelled by vocal styling. Come enjoy some "blues you can chew!".
SATURDAY: SURF MUSIC NIGHT DOUBLE FEATURE featuring THE HI-FI'S AND THE GREASE MONKEYS, 8:00 – 10:00 PM
A night that pays tribute to the surf music genre that began in California in the 1960's with bands like the Beach Boys, Dick Dale, the Ventures, the Searchers, and the Tornadoes, and the tradition continues to this day! The night opens with the Hi-Fi's, and closes with the Grease Monkeys …two great local surf music bands from the Youngstown-Warren area, ready to kick beach sand in your face. Beach attire and Hawaiian shirts are encouraged and welcome …and anyone with one of those colorful prints will be rewarded during the intermission!