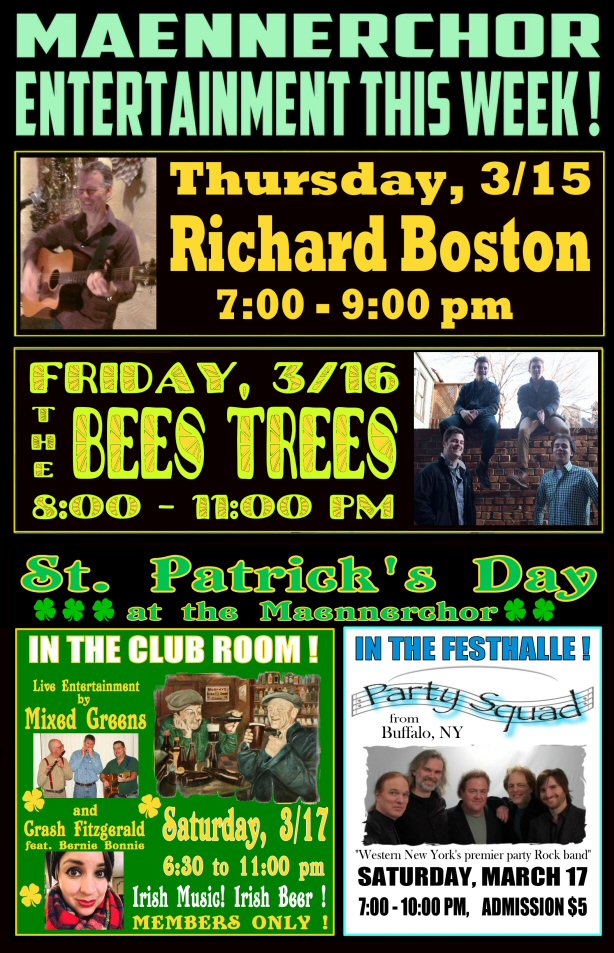 AFTER WEEKS OF WORK, OUR NEW AND IMPROVED KITCHEN IS BACK IN SERVICE!
FOOD SPECIALS: IRISH WEEK

Tuesday – Burger, Brats and Dogs Night, $1 off dogs! special: German Lentil Stew
Wednesday – Pizza Night, special pizza: Irish Cheddar and Potato pizza
Thursday – Full Menu, special: Guinness Beef Stew
Friday – Full Menu, special: Baked Codfish with Irish cheese crust, served with Colcannon (Cabbage & Potatoes)
Saturday – Full Menu, special: Corned Beef & Cabbage, and Bangers and Mash

TUESDAY: AND BURGER AND DOGS NIGHT
Stop in, visit Ashley, and enjoy one of our many variations of the classic American hamburger or hot dog! Now featuring Brats and soup as well! As always, we feature $1 Yuengling pints all day!
WEDNESDAY: PIZZA NIGHT
Stop in, visit Amy, and enjoy one of large selection of personal artisan pizzas! Miller Lite pints are $1 all day!
THURSDAY: RICHARD BOSTON, 7:00 – 9:00 PM
Newton Falls native Richard Boston always entertains as a vocal/guitar soloist, playing a variety of music from a huge repertoire. He takes requests!
FRIDAY: THE BEES TREES, 8:00 – 11:00 PM
The Bees Trees deliver a dynamic fusion of melodies that highlight a wide range of musical influences – including funk, roots rock, reggae, jazz and blues. By frequently performing in a variety of venues – from taverns to music festivals and theaters – they deliver their unique sounds to an eclectic audience. The Bees Trees continues to evolve and enchant listeners around the United States.
SATURDAY: ST. PATRICK'S DAY PARTY,
MIXED GREENS AND CRASH THE GREAT featuring BERNIE BONNIE in the CLUBROOM, 6:30 – 11:00 PM
… and, PARTY SQUAD in the FESTHALLE ($5 admission)
Our annual St. Patrick's Day party is always a festive event!
As always we're offering some fantastic Irish music from 6:30 to 11:00 pm. First up is the quartet Mixed Greens…instrumental masters of Irish music and a very unique local act featuring world-class musicians. Following them will be Youngstown's piano queen Crash Fitzgerald doing a unique show of Irish tunes accompanied by Bernie Bonnie on strings!
As always, we'll be tapping a few kegs of Irish beers. On tap will be Guinness Stout, Harp Lager, and Smithwyck's Ale. There will be Irish-themed food specials as well as our regular menu! So, wear your green and join us to celebrate St. Patty's!
Also, in the Festhalle, from Buffalo NY we welcome the Party Squad! Self described as superlative musicianship, no silly costumes, no fake music tracks, just a great array of great favorite, classic, vintage, and new music performed by expert musicians who have become and remain one of Buffalo and Western New York's favorite, highly recognized, and well respected music groups. The Festhalle show has an admission of $5.