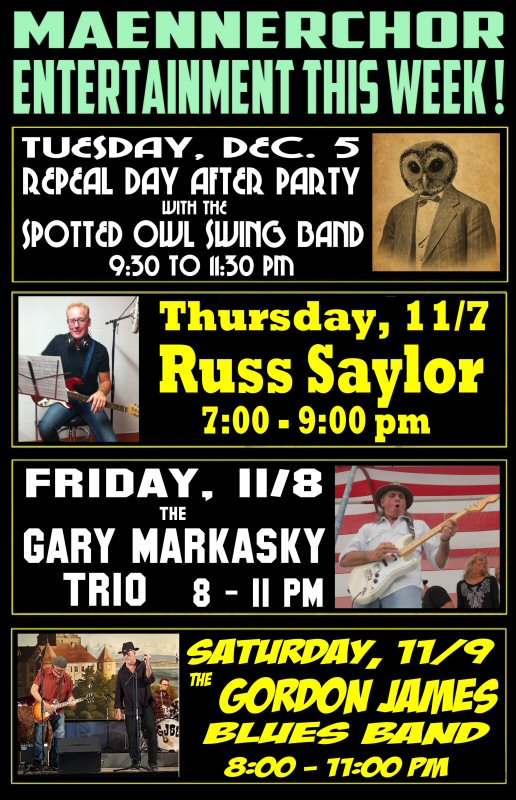 Tues. – Burgers and Dogs Night: Now featuring Brats and the soup of the week! Butternut Squash Apple
Weds. – Pizza Night. Special Pizza: Pineapple Poblano Guacamole Pizza
Thurs. – Full Menu. Special: German Comfort Food – Rinderbraten (Roast Beef) served with homemade Spaetzle
Fri. – Full Menu. Special: Pan-seared Scallops served with Mushroom Truffle Ravioli
Sat. – Full Menu. Special: House-smoked New York Strip Loin Dinner
Sun. – Chicken Pot Pie with Gravy, Peas & Carrots, Dirty mashed Potatoes, and fruit pie
TUESDAY: BURGER & DOGS NIGHT …NOW ALSO FEATURING BRATS, AND THE SOUP OF THE WEEK! ALSO, THE REPEAL DAY AFTER PARTY FEATURING THE SPOTTED OWL SWING BAND, 9:30 – 11:30 PM
Stop in, visit Ashley, and try one of our many varieties of burgers and dogs with unique toppings, and now featuring brats and soup as well! As always, Yuengling pints are $1 ! Also, for those attending the annual Repeal Day celebration, the party continues at the Club with the Spotted Owl Swing Band, a 1933 "period authentic" dixieland jazz band, straight out of a Prohibition speakeasy, From 9:30 to 11:30 pm!
WEDNESDAY: PIZZA NIGHT
Stop in, visit Amy, and try one of our many varieties of personal artisan pizzas. As always, Miller Lite pints are $1 !
THURSDAY: RUSS SAYLOR, 7:00 – 9:00 PM
Russ is a New Castle native and a favorite regularly featured performer at the Club. He plays a wide variety of rock/pop hits, and often leads the crowd with his signature specialty…TV tunes!
FRIDAY: GARY MARKASKY TRIO, 8:00 – 11:00 PM
Warren OH guitar legend and former guitarist for the Michael Stanley Band leads a trio of talented musicians who play a variety of classic rock covers, 80's, and plenty of great Michael Stanley Band covers! It really is the next best thing to being there in Cleveland listening to MSB in the 1980's!
SATURDAY: GORDON JAMES BLUES BAND, 8:00 – 11:00 PM
Returning to the Club again is the high-energy, valley-based Gordon James Blues Band. The band which has performed at all of our Blues Fests, features Joe Biro (vocals & harmonica), Jim Jorewicz (guitar), P.J. Nespor (drums), Rick Hill (guitar), and Dean Welch (bass). Their style is blues you can dance to, an eclectic style style of blues/rock with a creative edge propelled by vocal styling. Come enjoy some "blues you can chew!".
SUNDAY: CHICKEN POT PIE DINNER, 4:00 – 7:00 PM
This Sunday, December 10, the Club will be open to serve Chicken Pot Pie Dinners from 4:00 pm to 7:00 pm, or while supplies last!
On the menu for the day will be a slice of Chicken (all meat) Pie with a flaky crust, gravy, dirty smashed Potatoes, Peas and Carrots, and a slice of fruit pie for dessert …all for only $12.00!
Dinners will be available to eat in-house, or to carry out.
For NFL football fans, this is the perfect "no work" pre-game dinner for the Steelers-Ravens game which airs at 8:30 pm!
As always, the number of dinners is limited, so we're encouraging people to pre-purchase tickets at either the bar or with our door attendant during the week to ensure your dinner(s) is held for you!
The bar will open at 3:30 on Sunday, food served at 4:00.