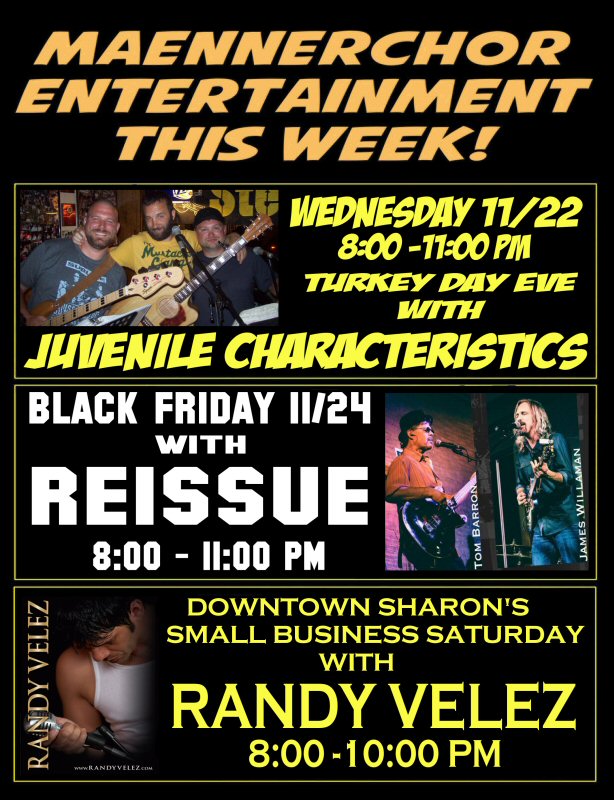 Tues. – Burgers and Dogs Night: Now featuring Brats and the soup of the week! Curried Turkey and Rice
Weds. – Full Menu: Special: Smoked Meatloaf with Mashed Potatoes and Gravy
Thurs. – Closed for Thanksgiving
Fri. – Full Menu. Special: Orange Maple Baked Salmon with Fried Rice
Sat. – Full Menu. Special: French-Canadian Classic: Poutine with Beef Gravy

TUESDAY: BURGER & DOGS NIGHT …NOW ALSO FEATURING BRATS, AND THE SOUP OF THE WEEK!
Stop in, visit Ashley, and try one of our many varieties of burgers and dogs with unique toppings, and now featuring brats and soup as well! As always, Yuengling pints are $1!
WEDNESDAY: PIZZA NIGHT: JUVENILE CHARACTERISTICS, 8:00 – 11:00 PM
This local band consists of Jason Hummell, Jason Sample, Kris Chapman, and Mitch Adelman. Their style is difficult to categorize, but it's an awesome mix of southern rock, bluegrass, and original tunes! Join us for an awesome Turkey Day Eve Celebration with one of Mercer County's hottest musical acts!
THURSDAY: CLOSED FOR THE THANKSGIVING HOLIDAY
FRIDAY: REISSUE, 8:00 – 11:00 PM
Talented local guitarist, singer, and songwriter James Willaman leads this high-energy trio that includes bassist Tom Barron, and drummer Steve Marks. They play Rock, Roots, and Americana on this beautiful Black Friday!
SATURDAY: RANDY VELEZ, 8:00 – 10:00 PM
Often found performing at La Isla in Hermitage, Randy has a large following in the valley of devoted fans! Randy is best known as a vocal impressionist who vocally covers modern pop and rock hits with a variety of props and costume changes for a very entertaining act. Stop by Downtown Sharon for their Small Business Saturday Celebration, then come in, have dinner, and enjoy the show!