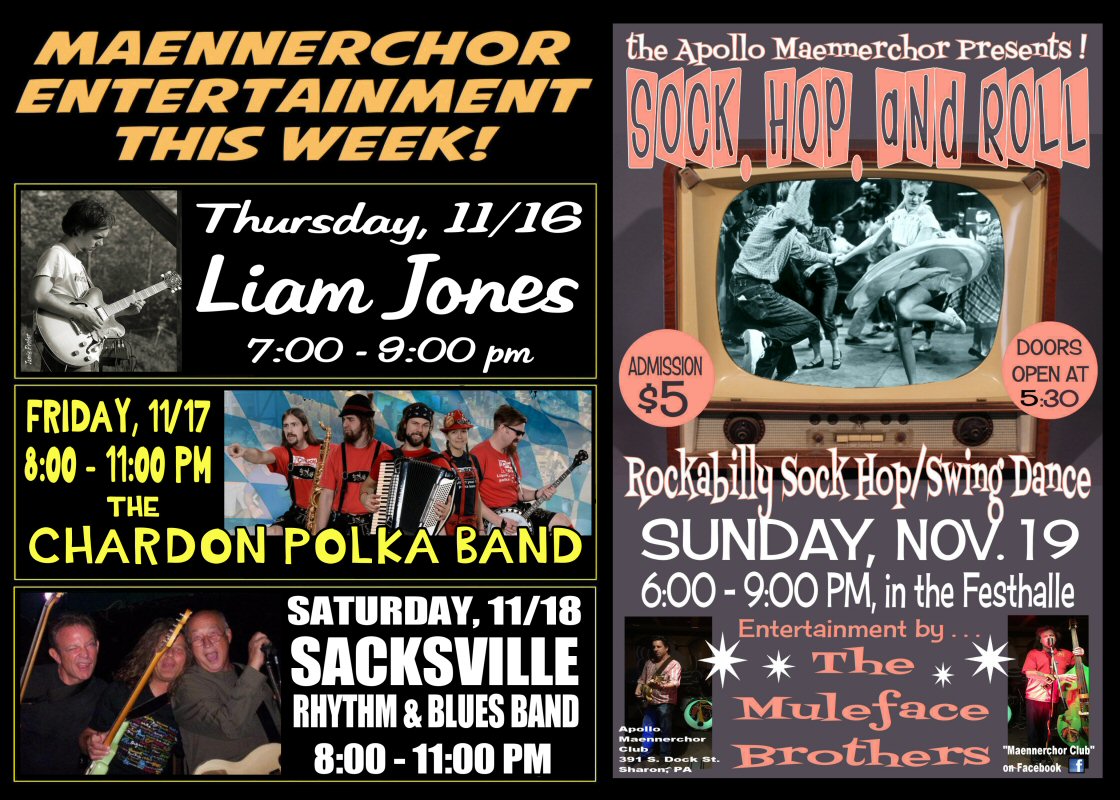 TUESDAY: BURGER & DOGS NIGHT …NOW ALSO FEATURING BRATS, AND THE SOUP OF THE WEEK!
Stop in, visit Ashley, and try one of our many varieties of burgers and dogs with unique toppings! As always, Yuengling pints are $1 !
WEDNESDAY: PIZZA NIGHT
As always, it's Pizza Night, so stop in, visit Amy, and enjoy one of our many varieties of personal artisan pizzas! Miller Lite pints are $1 !
THURSDAY: LIAM JONES, 7:00 – 9:00 PM
Youngstown-based acoustic groove rock artist and prominent member of the Youngstown original funk band, The Bees Trees. He plays a wide variety of music from rock,folk, jazz, originals, and bluegrass!
FRIDAY: THE CHARDON POLKA BAND, 8:00 – 11:00 PM
From Chardon Ohio comes a rare treat for our Club, and we're lucky to have them once a year. The amazing Chardon Polka Band travels the U.S. bringing their unique ethnic accordion twist to classic rock-n-roll in an act that's better seen than described! The best of rock meets the best of polka for an evening of entertainment that you won't forget!
SATURDAY: SACKSVILLE RHYTHM & BLUES BAND, 8:00 – 11:00 PM
The legendary, one and only, Sacksville Rhythm & Blues Band has been performing for over 3 decades and is making their 3rd appearance at the Club! Led by Sonny Boy Hopchick on guitar, the band also features Tony Armeni (trombone), Darryl Balestra (guitar), MIke Klanica (drums), John Plaskett (bass), and Joe Rangone (saxophone), this six-piece old-school, horn-driven, rhythm and blues band plays blues, funk, rock, and originals!
SUNDAY: SOCK, HOP, AND ROLL – ROCKABILLY SWING DANCE IN THE FESTHALLE WITH THE MULEFACE BROTHERS, 6:00 – 9:00 PM
Swing dancers, Jitterbuggers, and 50's Rockabilly fans unite!
Warren Ohio's best 50's Rockabilly band, The Muleface Brothers will be rockin' the Festhalle hardwood floor this Sunday, November 19, from 6:00 to 9:00 pm! Doors open at 5:30 pm, sandwiches will be available, and the bar will be open. Admission, $5. Your best 50's atttire is both welcomed and encouraged!