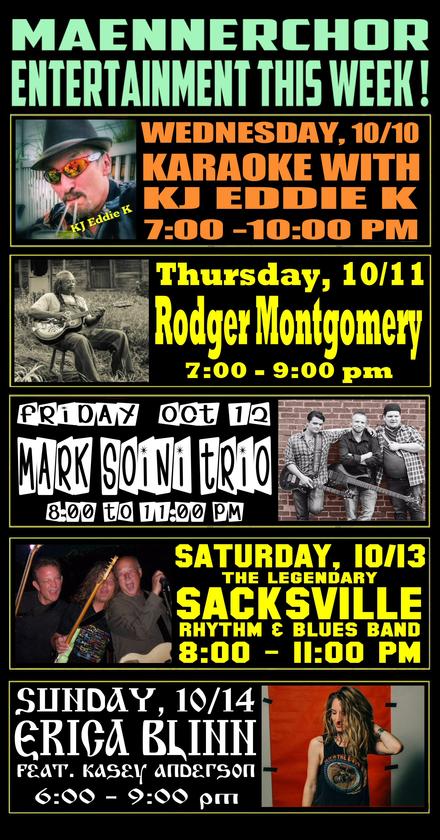 COMEDY NIGHT IN THE FESTHALLE FEATURING BOB GOLUB AND DAVE KAYE IS ON SUNDAY OCT. 21! TICKETS ARE $20 AND AVAILABLE AT THE BAR.
TUESDAY: BURGER AND DOGS NIGHT
Stop in, say hello to Alaina and enjoy one of our many variations of the classic hamburger and hot dog. Yuengling pints are $1 all day!
WEDNESDAY: PIZZA NIGHT, PLUS KAROKE WITH KJ EDDIE K, 7:00 – 10:00 PM
Stop in, say hello to Amy, and enjoy one of our many variations of artisan pizzas. Budweiser pints are $1 all day! Also, KJ Eddie K will be hosting karaoke from 7:00 to 10:00 pm. After years of watching countless acts sing on our small stage, now is YOUR chance!
THURSDAY: RODGER MONTGOMERY, 7:00 – 9:00 PM
This veteran blues man has been a Club favorite for years now, making several appearances. He plays traditional blues, including Delta blues, original songs, and covers.
FRIDAY: MARK SOINI TRIO, 8:00 – 11:00 PM
This Warren-based blues/rock trio put on a fantastic show the last time they were here! Mark (guitar), Sam (bass), and Jeff (drums) return with some new material and some old favorites!
SATURDAY: SACKSVILLE RHYTHM AND BLUES BAND, 8:00 – 11:00 PM
The legendary Sacksville Rhythm & Blues Band has been performing for over 3 decades, but this is their first appearance at the Club, and their first return to Sharon in a long while. Led by Sonny Boy Hopchick on guitar, the band also features Tony Armeni (trombone), Darryl Balestra (guitar), MIke Klanica (drums), John Plaskett (bass), and Joe Rangone (saxophone), this six-piece band plays blues, funk, rock, and originals!
SUNDAY: ERICA BLINN feat. KASEY ANDERSON, 6:00 – 9:00 PM
Originally from Athens, OH, and now residing in Nashville while not relentlessly touring the U.S., Erica is an original rock/country performer that's a must-see performance at the Club! After the release of her first CD 2 years ago, The following 2 years saw Blinn and her band tour nationally, playing over 150+ shows a year everywhere from New York to Wyoming and back. She's shared the stage with names including Blues Traveler, The Family Stone, Lynyrd Skynyrd, Nicki Bluhm & The Gramblers, Royal Southern Brotherhood, Devon Allman, The Clarks and Jim Lauderdale to name a few. Some reviews from music journalists probably describe her best…
"Blinn packs enough smoldering sensuality into her material to light up a football stadium." – Lee Zimmerman, BLURT
"Her album Lovers In The Dust immediately puts her on par with the 'big' women rockers of the last 20 years and will resonate with listeners from all sorts of lifestyles." -Eric Peterson, RUSTzine
"This band flat out rocks." -Chris Martin, Atlanta Live Music Examiner
"…a Midwestern beauty with a wistful voice and a country-rock sound somewhere between Lucinda Williams and Sheryl Crow…" -Don Thrasher, Active Dayton
We can't wait to check her out! Be there!
Joining Erica on stage will be Kasey Anderson, recording artist from Portland Oregon, and singer and songwriter for the band Hawks and Doves.
Our draft beer selections are always changing
On tap are Boulevard Tough Kitty Milk Stout, Blue Moon, Lagunitas Brown Shugga', Dogfish Head 60 Minute IPA, Victory Prima Pils, Ommegang Short Sleeve Saison, Hacker-Pschorr Oktoberfest, Ayinger Oktoberfest, Spaten Original, Kostritzer Schwarzbier, Weihenstephaner hefeweizen, and Hofbrau Original !
On deck: Victory Hop Devil IPA, Deschutes Hopzeit, Cigar City Jai Alai IPA, Dogfish Head Mixed Media, Southern Tier Harvest, and Deschutes Black Butte Nitro Porter
Some dates to look forward to
Tues. Oct. 16 – James Willaman, 7:00 – 9:00 pm
Thurs. Oct. 18 – Zach Economos, 7:00 – 9:00 pm
Fri. Oct. 19 – The Dynamic Duo, 8:00 – 11:00 pm
Sat. Oct. 20 – FX Project, 8:00 – 11:00 pm
Sun, Oct. 21 – Comedy Night in the Festhalle with Bob Golub and Dave Kaye, 7:00 – 9:00 pm, Admission $20 (60 tickets still available)
Thurs. Oct. 25 – Russ Saylor, 7:00 – 9:00 pm
Fri. Oct. 26 – Ruby Hornsby, 8:00 – 11:00 pm
Sat. Oct. 27 – Halloween Party with the Hellbenders, 8:00 – 11:00 pm