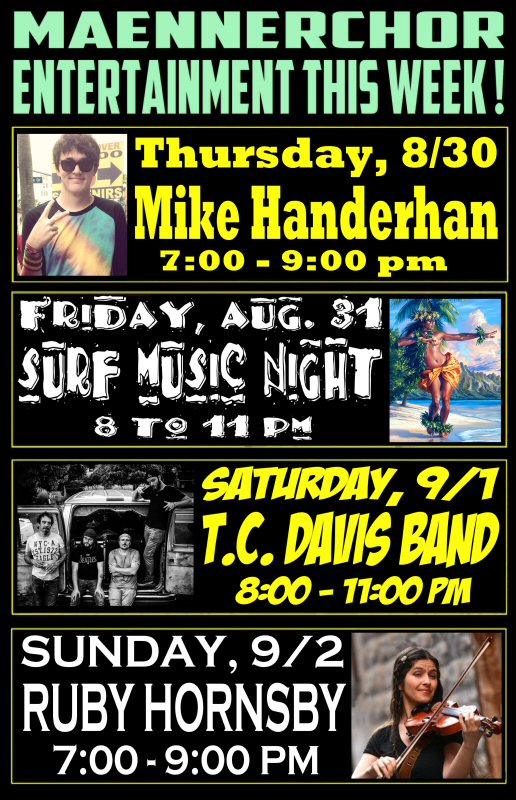 TUESDAY: BURGER AND DOGS NIGHT
Stop in, say hello to Hennessy, and enjoy one of our many variations of the classic hamburger and hot dog. Yuengling pints are $1 all day!
WEDNESDAY: PIZZA NIGHT
Stop in, say hello to Amy, and enjoy one of our many variations of artisan pizzas. Miller Lite pints are $1 all day!
THURSDAY: MIKE HANDERHAN, 7:00 – 9:00 PM
Mercer's own Mike Handerhan entertains with acoustic versions of classic rock and pop tunes!
FRIDAY, SURF MUSIC NIGHT, 8:00 – 11:00 PM
A night that pays tribute to the surf music genre that began in California the 1960's with bands like the Beach Boys, Dick Dale, the Ventures, and the Tornadoes, and the tradition continues to this day! The night opens with the Hi-Fi's, and closes with the Grease Monkeys …two great local surf music bands from the Youngstown-Warren area are ready to kick sand in your face. Beach attire and Hawaiian shirts are encouraged and welcome …and anyone with one of those colorful prints will be rewarded during the intermission!
SATURDAY, THE T.C. DAVIS BAND, 8:00 – 11:00 PM
Visiting us again is the T.C. Davis Band, a group that's been featured by Pittsburgh's WDVE. They play a mix of originals and covers, all falling into what they describe as "southern soul and rock-n-roll"!
SUNDAY, RUBY HORNSBY, 7:00 PM – 9:00 PM
For a special Labor Day weekend Sunday show, Ruby is returning to the Club to perform a mix of original music and covers. Her act, self-described as "mountain soul" employs a variety of instruments driven by fiddle and guitar.
Our draft beer selections are always changing
On tap are Rogue Marionberry Sour, Blue Moon, Lagunitas Brown Shugga', Ballast Point Sculpin IPA, Flying Dog Tropical Bitch Belgian IPA, Ommegang Short Sleeve Saison, Erie Brewing Soleil Raspberry-Lemon Shandy, Knockin' Noggin Cranberry Hard Cider, Spaten Original, Kostritzer Schwarzbier, Weihenstephaner hefeweizen, and Hofbrau Original!
On deck: Dogfish Head 60 Minute IPA, Victory Hop Devil IPA, Southern Tier Harvest, and Dogfish Head Mixed Media
Some dates to look forward to
Tues. Sept. 4 – The Freewheelin' Tour (a Bob Dylan tribute), 7:00 – 9:00 pm
Thurs. Sept. 6 – The Rock Jazz Trio, 7:00 – 9:00 pm
Fri. Sept. 7 – Gary Markasky Trio, 8:00 – 11:00 pm
Sat. Sept. 8 – Memphis Cradle, 8:00 – 11:00 pm
Thurs. Sept. 13 – Diane & Terry McCabe, 7:00 – 9:00 pm
Fri. Sept. 14 – Randy Velez, 8:00 – 10:00 pm
Sat. Sept. 15 – Anthony the Entertainer, 8:00 – 11:00 pm
Tues. Sept. 18 – Jeff Welsh, 7:00 – 9:00 pm
Thurs. Sept. 20 – Mike Adams, 7:00 – 9:00 pm
Fri. Sept. 21 – Sonny Needs Money, 8:00 – 11:00 pm
Sat. Sept. 22 – Waterfire After the Fire Party with the Hawkeyes and the Outside Voices, 8:30 – midnight
Thurs. Sept. 27 – Nick Allegro, 7:00 – 9:00 pm
Fri. Sept. 28 – Average Jane, 8:00 – 11:00 pm
Sat. Sept.29 – KGB, 8:00 – 11:00 pm