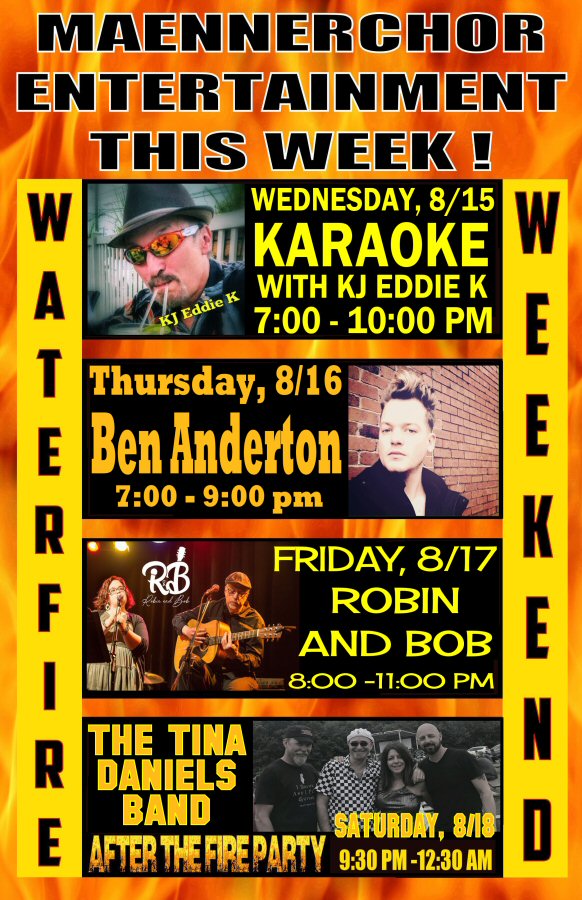 FINALLY! AFTER 5 YEARS OF CONSTRUCTION, THE DOCK STREET CORRIDOR AND THE NEW ROUNDABOUT ARE SET TO OPEN UP COMPLETELY THIS WEEK! THE CLUB IS NOW EASILY ACCESSIBLE FROM ALL DIRECTIONS! REPEAT … THE DOCK STREET CONSTRUCTION HAS ENDED!!

Orange cards are now expired! Please stop in soon to renew for the 2018/2019 season!
TUESDAY: BURGER AND DOGS NIGHT
Stop in, say hello to Hennessy, and enjoy one of our many variations of the classic hamburger and hot dog. Yuengling pints are $1 all day!
WEDNESDAY: PIZZA NIGHT, PLUS KARAOKE WITH EDDIE K, 7:00 – 10:00 PM
Stop in, say hello to Amy, and enjoy one of our many variations of artisan pizzas. Miller Lite pints are $1 all day! Also, KJ Eddie K will be hosting karaoke from 7:00 to 10:00 pm. After years of watching countless acts sing on our small stage, now is YOUR chance!
THURSDAY: BEN ANDERTON, 7:00 – 9:00 PM
Local singer and guitarist Ben Anderton returns to the Club once again to perform a variety of covers, 50's rockabilly classics, and original tunes!
FRIDAY, ROBIN AND BOB, 8:00 – 11:00 PM
Robin & Bob are a musical duo that was formed in early 2017. Bob has been playing guitar for over 30 years and Robin has been singing in some capacity since she was a young girl. Some Club members may remember Bob from Shannon and the Merger, and Submerge. Their sound is a mix of blues, folk and rock all intertwined. The duo have opened for The Danielle Nicole Band, Albert Cummings and Davina and the Vagabonds. They perform throughout the tri-state area and are in the process of recording their first CD!
SATURDAY, WATERFIRE AFTER THE FIRE PARTY WITH THE TINA DANIELS BAND, 9:30 PM – 12:30 AM
Tina Daniels is a vocalist performer from the Pittsburgh area who takes to the stage with her high energy blues rock edge in and around the Pittsburgh music scene for 25 plus years.
Her powerful, raw, gritty, lead vocals and dynamic stage presence has played a major role in her success to entertaining any audience.
Tina is joined on stage with Ron Vis on lead guitar, along with Keith Gamble on bass and Eric Storer on drums.
Many, but not all of Tina's influences include; Daniele Nicole, Beth Hart, Sass Jordan, Grace Slick, Janis Joplin, Allman Brothers, Tedeschi Trucks, Nina Simone, Roberta Flack.
Our draft beer selections are always changing
On tap are Rogue Marionberry Sour, Blue Moon, Lagunitas Brown Shugga', Ballast Point Sculpin IPA, Flying Dog Tropical Bitch Belgian IPA, Ommegang Short Sleeve Saison, Erie Brewing Soleil Raspberry-Lemon Shandy, Knockin' Noggin Cranberry Hard Cider, Spaten Original, Kostritzer Schwarzbier, Weihenstephaner hefeweizen, and Hofbrau Original !
On deck: Dogfish Head 60 Minute IPA, Victory Hop Devil IPA, and Dogfish Head Mixed Media.
Some dates to look forward to
Tues. Aug. 21 – Dinner Theater Rejects, 7:30 – 9:00 pm
Weds. Aug. 22 – Michael Rodgers, 7:00 – 10:00 pm
Thurs. Aug. 23 – Root Theory, 7:00 – 9:00 pm
Fri. Aug. 24 – Pan Tropix, 8:00 -11:00 pm
Sat. Aug. 25 – Pipe Dreams, 8:00 -11:00 pm
Thurs. Aug. 30 – Mike Handerhan, 7:00 – 9:00 pm
Fri. Aug. 31 – Surf Music Night, double feature with The Hi-Fi's and The Grease Monkeys, 8:00 – 11:00 pm
Sat. Sept. 1 – T.C. Davis Band, 8:00 -11:00 pm
Sun. Sept. 2 – Ruby Hornsby, 7:00 – 9:00 pm