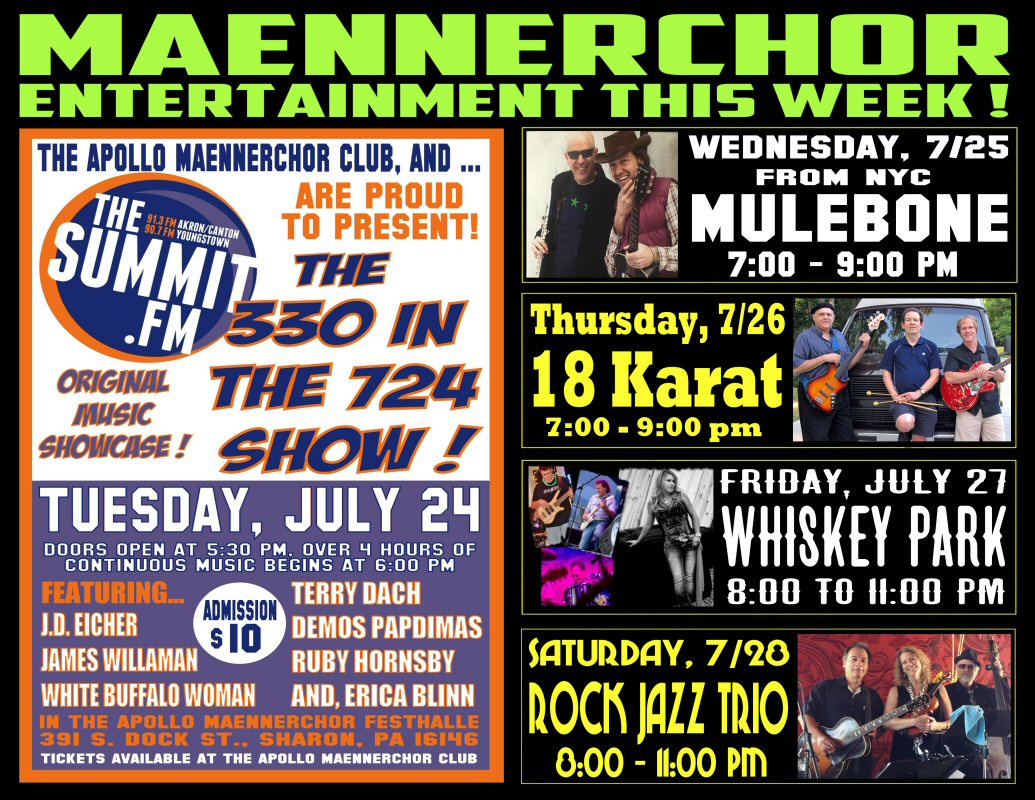 330 in the 724 – Tuesday 7/24!
DOWNSTAIRS BAR WILL BE CLOSED THIS TUESDAY FOR THE 330 IN THE 724 SHOW
Orange cards are now expired! Please stop in soon to renew for the 2018/2019 season!
Food Specials

Tuesday – closed for special event
Wednesday & Thursday – Full menu
Friday – Full Menu, special: Moroccan spiced Wild Alaskan Salmon with vegetable and pasta salad

TUESDAY: THE MAENNERCHOR AND THE SUMMIT 90.7 FM PRESENT 330 IN THE 724, 6:00 – 10:30 PM
The Club and Akron's The Summit 90.7 FM team up to bring you 7 acts and over 4 hours of continuous music from some of the best original artists from the Summit's listening area. The lineup includes J.D. Eicher, James Willaman, White Buffalo Woman, Terry Dach, Demos Papadimas, Ruby Hornsby, and Erica Blinn! The Festhalle doors open at 5:30, tickets are $10. Bar and sandwiches will be available.
WEDNESDAY: PIZZA NIGHT, PLUS MULEBONE, 7:00 – 9:00 PM
Stop in, say hello to Amy, and enjoy one of our many variations of artisan pizzas. Miller Lite pints are $1 all day! Plus, from New York City, the Club is proud to present Mulebone!
With thousands of live gigs under their collective belts, Mulebone is one of the most polished yet spontaneous duos performing today. Comprised of multi-instrumentalist John Ragusa and roots music specialist (and New York Blues Hall of Fame inductee) Hugh Pool, the launching pad for Mulebone's musical expression is traditional blues, but there's much more to it than that. Equally at home in the worlds of Rock, Folk, Jazz and American roots music, Mulebone breaks new ground with an original sound that is soulful, agile and adventurous.
THURSDAY: 18 KARAT, 7:00 – 9:00 PM
18 Karat is a traditional jazz trio consisting of Bernard Bonnie (bass guitar), Nick Lakatos (drums, Marimba/vibraphone), and Tim Schneider (electric guitar). They are from the Shenango Valley. This non-vocal group performs proven jazz standards. Source material pulls from such artists as Miles Davis, Johnny Mercer, Herbie Hancock, Sonny Rollins, Stanley Turrentine, and Toots Thieleman. A few "modern" tunes are also played as well that are easily recognizable. Duke Ellington was described as having an 18 karat heart.
FRIDAY: WHISKEY PARK, 8:00 – 11:00 PM
Making their debut at the Club is Youngstown's Whiskey Park! Beth Harkless, Michael Angelo, James Taylor, Jimmy Vass, and Mark Angelo deliver a smooth blend of rock and blues! Stop in and check them out!
SATURDAY: THE ROCK JAZZ TRIO, 8:00 – 11:00 PM
The Rock Jazz Trio hails from the Slippery Rock/Grove City area. With Jane Gregg on violin, Tony Bellassai on upright bass, and Dennis Grosky on acoustic guitar and vocals, our music is "gypsy jazz," an upbeat style of music made famous by Django Reinhardt in the 20's, 30's, and 40's. We also play the music of Gershwin , Mancini, Jobim, and Sinatra, all in the gypsy jazz vein. Our music has a vintage feel to it that will keep you tapping your toes.