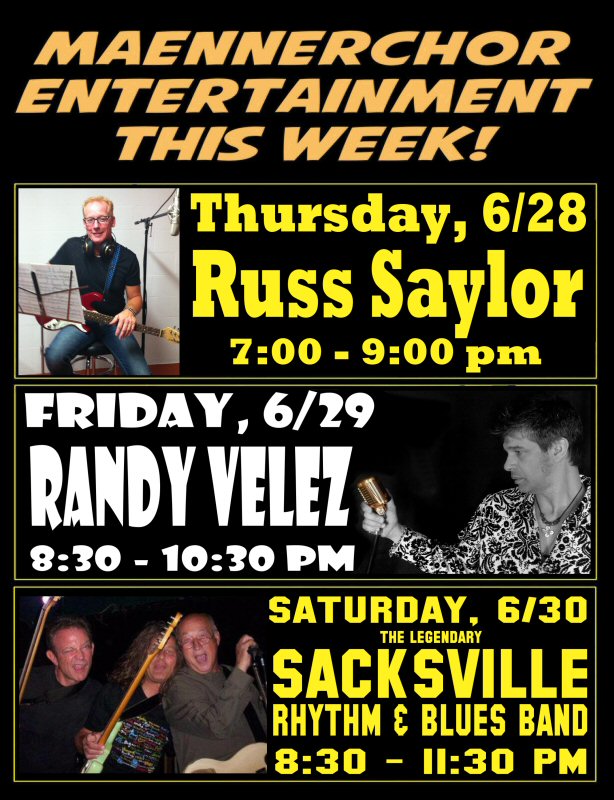 FOOD SPECIALS:

Tuesday – Burger, Brats and Dogs Night, Special:
Wednesday – Pizza Night, special pizza: Sausage Onion Pizza
Thursday – Full Menu, special: House-smoked Pork Tacos
Friday – Full Menu, special: Mediterranean Baked Cod with Zucchini, Pepper, Tomato and Olives served with Rice
Saturday – Full menu, special: House-smoked Chicken Thighs with Alabama White Sauce

TUESDAY: BURGER AND DOGS NIGHT
Stop in, visit Leann, and enjoy one of our many variations of the classic American hamburger or hot dog! Now featuring Brats as well! As always, we feature $1 Yuengling pints all day!
WEDNESDAY: PIZZA NIGHT
Stop in, visit Amy, and enjoy one of large selection of personal artisan pizzas! Miller Lite pints are $1 all day!
THURSDAY: RUSS SAYLOR, 7:00 – 9:00 PM
Russ is a New Castle native and a regularly featured performer at the Club. He plays a wide variety of rock/pop hits, and often leads the crowd with his signature specialty…TV tunes!
FRIDAY: RANDY VELEZ, 8:30 – 10:30 PM
Randy has a large following in the valley of devoted fans! Randy is best known as a vocal impressionist who vocally covers modern pop and rock hits with a variety of props and costume changes for a very entertaining act. Come in and enjoy!
SATURDAY: SACKSVILLE RHYTHM & BLUES BAND, 8:30 – 11:30 PM
The legendary Sacksville Rhythm & Blues Band has been performing for over 3 decades, but this is their first appearance at the Club, and their first return to Sharon in a long while. Led by Sonny Boy Hopchick on guitar, the band also features Tony Armeni (trombone), Darryl Balestra (guitar), MIke Klanica (drums), John Plaskett (bass), and Joe Rangone (saxophone), this six-piece band plays blues, funk, rock, and originals!