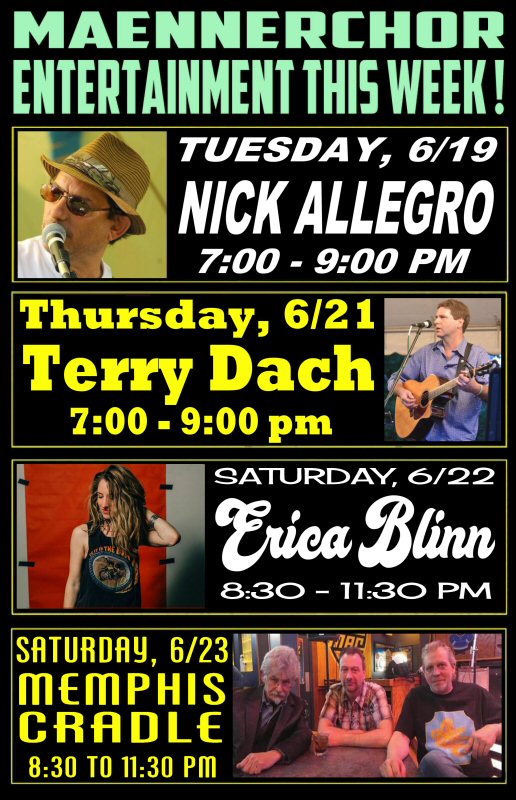 THE BIERGARTEN IS NOW OPEN!

Early renewals and new member renewals for the 2018-2019 membership year have begun! Orange cards are expiring June 30. If you have a friend or family member that's been holding off on signing up for a membership, now is the time to do it! New members will receive 13 months of membership for only $10!

FOOD SPECIALS:

Tuesday – Burger, Brats and Dogs Night, Special: TBD
Wednesday – Pizza Night, special pizza: Angus Beef Pizza
Thursday – Full Menu, special: Mahi Mahi Tacos
Friday – Full Menu, special: Pan-seared Scallops served with Ravioli and Tomato sauce
Saturday – Full menu, special: TBD

TUESDAY: BURGER AND DOGS NIGHT, PLUS NICK ALLEGRO, 7:00 – 9:00 PM
Stop in, visit Leann and Hennessy, and enjoy one of our many
variations of the classic American hamburger or hot dog! Now featuring
Brats and soup as well! As always, we feature $1 Yuengling pints all
day! Plus! …Nick Allegro will be performing an acoustic solo act on the patio (or inside if the weather doesn't cooperate). Nick is from New Castle PA, and performs a variety of singer/songwriter hits, modern country, and originals!
WEDNESDAY: PIZZA NIGHT
Stop in, visit Amy, and enjoy one of large selection of personal artisan pizzas! Miller Lite pints are $1 all day!
THURSDAY: TERRY DACH, 7:00 – 9:00 PM
The front man from Grant Street Exit and Sharon's legendary singer/songwriter returns with his solo act, playing and singing a variety of originals and covers guaranteed to entertain! On the patio …or inside if the weather doesn't cooperate.
FRIDAY: ERICA BLINN, 8:30 – 11:30 PM
Originally from Athens, OH, and now residing in Nashville while not relentlessly touring the U.S., Erica is an original rock/country performer that's a must-see performance at the Club! After the release of her first CD 2 years ago, The following 2 years saw Blinn and her band tour nationally, playing over 150+ shows a year everywhere from New York to Wyoming and back. She's shared the stage with names including Blues Traveler, The Family Stone, Lynyrd Skynyrd, Nicki Bluhm & The Gramblers, Royal Southern Brotherhood, Devon Allman, The Clarks and Jim Lauderdale to name a few. Some reviews from music journalists probably describe her best…
"Blinn packs enough smoldering sensuality into her material to light up a football stadium." – Lee Zimmerman, BLURT
"Her album Lovers In The Dust immediately puts her on par with the 'big' women rockers of the last 20 years and will resonate with listeners from all sorts of lifestyles." -Eric Peterson, RUSTzine
"This band flat out rocks." -Chris Martin, Atlanta Live Music Examiner
"…a Midwestern beauty with a wistful voice and a country-rock sound somewhere between Lucinda Williams and Sheryl Crow…" -Don Thrasher, Active Dayton
We can't wait to check her out! Be there!
SATURDAY: MEMPHIS CRADLE, 8:30 – 11:30 PM
Returning for the first time in a long time, this fantastic Akron 3-piece blues band features Joe King (guitar), Gary Sands (bass), and percussion. They play a mix of blues originals and covers, and always put on a great show!