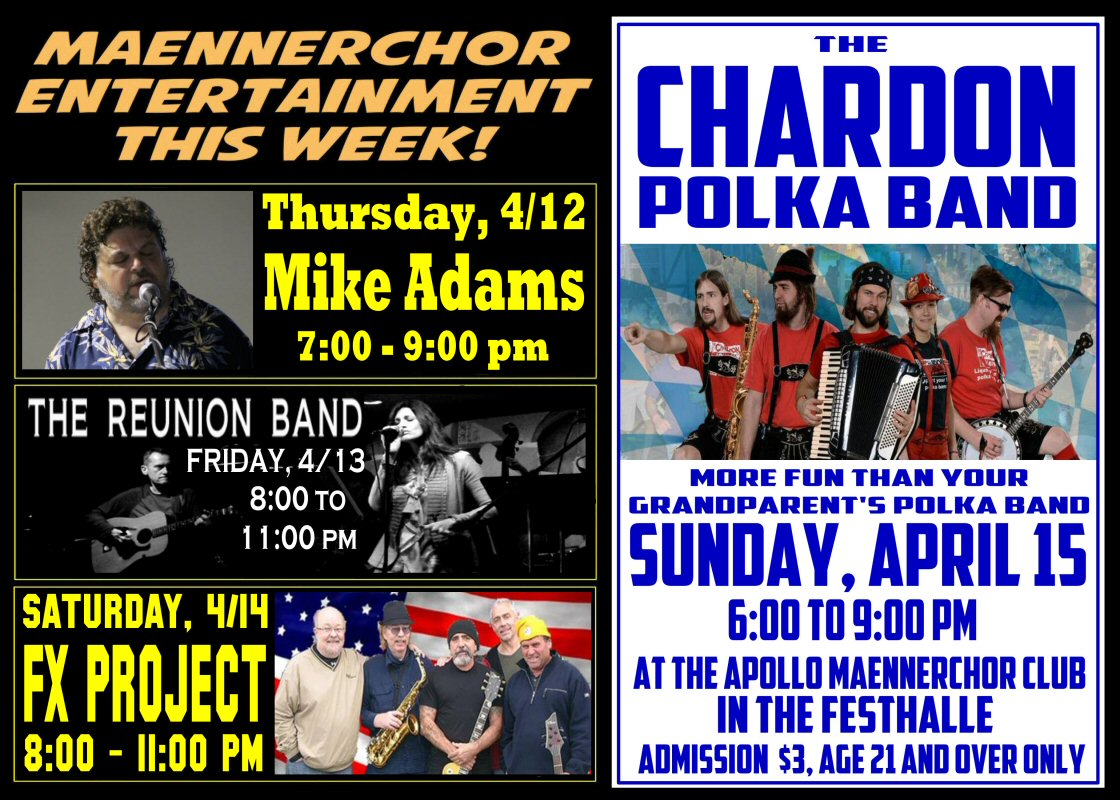 FOOD SPECIALS:

Tuesday – Burger, Brats and Dogs Night, $1 off Veggie burgers! Soup: Lemony Lentil Spinach Soup
Wednesday – Pizza Night, special pizza: Cheesesteak Pizza
Thursday – Full Menu, special: Chicken Schnitzel Sandwich
Friday – Full Menu, special: Horseradish-encrusted Grouper with Maple-glazed Carrots and Rice
Saturday – Full Menu, special: Moroccan Chicken served with Couscous

TUESDAY: BURGER AND DOGS NIGHT
Stop in, visit Ashley, and enjoy one of our many variations of the classic American hamburger or hot dog! Now featuring Brats and soup as well! As always, we feature $1 Yuengling pints all day!
WEDNESDAY: PIZZA NIGHT
Stop in, visit Amy, and enjoy one of large selection of personal artisan pizzas! Miller Lite pints are $1 all day!
THURSDAY: MIKE ADAMS, 7:00 – 9:00 PM
Mike (the piano man) has made a number of very entertaining performances on our small stage. He plays a variety of pop/rock hits and singer/songwriter favorites!
FRIDAY: REUNION, 8:00 – 11:00 PM
This local 5-piece band includes Michelle Becker (vocals), Joe Benes (guitar), Luke Bundy (banjo and fiddle), Bill Dodd (dobro), Carl Sticklemeyer (guitar), and Tommy Valesky (bass). From bluegrass to R&B, Reunion puts its country stamp on a variety of music. Their sound starts with the vocal talents of Michelle Becker, and adds classic American roots instrumentation.
SATURDAY: FX PROJECT, 8:00 – 11:00 PM
The valley's rockin' blues 5-piece is Fran Picciotto (guitar), Bill Miller (drums), John Regginello (keyboards), Tom Davies (bass), and Gordon (saxophone) …churning out blues to move your shoes!
SUNDAY: THE CHARDON POLKA BAND IN THE FESTHALLE, 6:00 – 9:00 PM
ATTENTION POLKA DANCERS! The one and only Chardon Polka Band will be making a special appearance in the Festhalle this Sunday! Cleveland's high-energy polka band returns! This is a public event, and admission is $3. Sandwiches will be available …and beer, of course! Because, in Heaven, there is no beer.