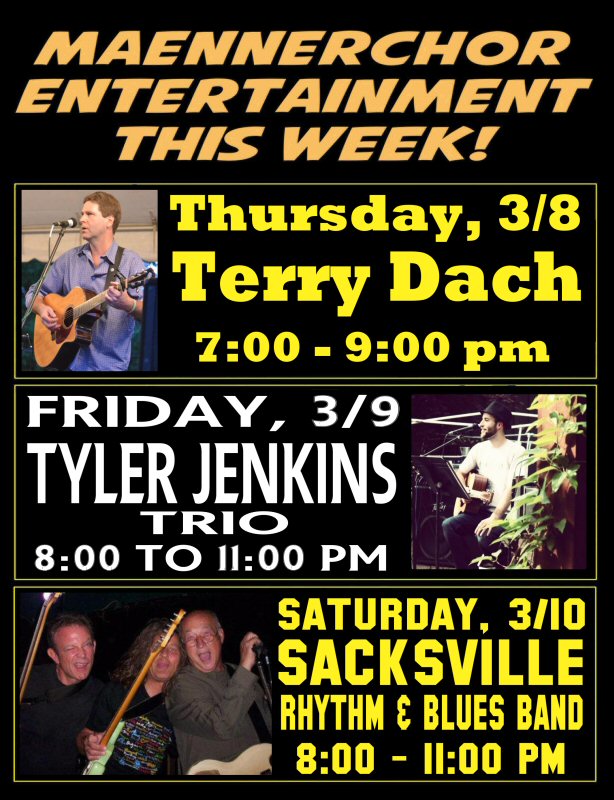 AFTER WEEKS OF WORK, OUR NEW AND IMPROVED KITCHEN IS BACK IN SERVICE!
FOOD SPECIALS

Tuesday – Burger, Brats and Dogs Night, $1 off dogs!
Wednesday – Pizza Night, special pizza: Smoked Pork pizza
Thursday – Full Menu, special: German comfort food – Linsen mit Spaetzle (German Lentil Stew with Spaetzle) and Frankfurter
Friday – Full Menu, special: Beer-glazed Salmon with Roasted Mushrooms served with Brown Balsamic Rice
Saturday – Full Menu, special: Bangers and Mash

TUESDAY: AND BURGER AND DOGS NIGHT
Stop in, visit Ashley, and enjoy one of our many variations of the classic American hamburger or hot dog! Now featuring Brats and soup as well! As always, we feature $1 Yuengling pints all day!
WEDNESDAY: PIZZA NIGHT
Stop in, visit Amy, and enjoy one of large selection of personal artisan pizzas! Miller Lite pints are $1 all day!
THURSDAY: TERRY DACH, 7:00 – 9:00 PM
The front man from Grant Street Exit returns with his solo act, playing and singing a variety of originals and covers guaranteed to entertain.
FRIDAY: TYLER JENKINS TRIO, 8:00 – 11:00 PM

This Hartford/Kinsman 3-piece band plays a variety of classic rock, country, blues, and oldies!
SATURDAY: SACKSVILLE RHYTHM & BLUES BAND, 8:00 – 11:00 PM
The legendary Sacksville Rhythm & Blues Band has been performing for over 3 decades. Led by Sonny Boy Hopchick on guitar, the band also features Tony Armeni (trombone), Darryl Balestra (guitar), Mike Klanica (drums), John Plaskett (bass), and Joe Rangone (saxophone), this six-piece band plays blues, funk, rock, and originals!