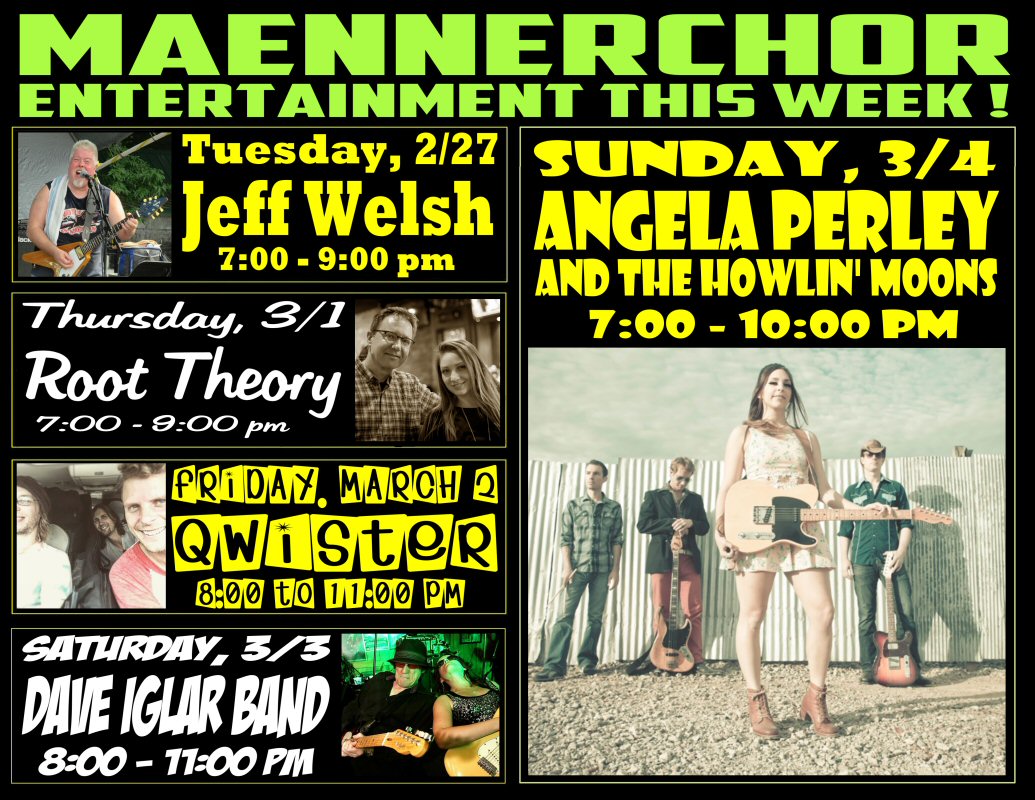 AFTER WEEKS OF WORK, OUR NEW AND IMPROVED KITCHEN IS BACK IN SERVICE!
FOOD SPECIALS:

Tuesday – Burger, Brats and Dogs Night, $1 off dogs!
Wednesday – Pizza Night, special pizza: Artichoke pizza
Thursday – Full Menu, special: German comfort food (Goulash Soup)
Friday – Full Menu, special: Maple Cajun Mahi Mahi served with Cilantro Lime Rice
Saturday – Full Menu, special: House-smoked Pork with Spaetzle and Sauerkraut
Sunday – Full Menu, special: TBD

TUESDAY: SPECIAL TUESDAY SHOW! JEFF WELSH, 7:00 – 9:00 PM, AND BURGER AND DOGS NIGHT
Warren Ohio's Jeff Welsh performs a variety of rock and pop covers for your listening enjoyment! Stop in, visit Ashley, and enjoy one of our many variations of the classic American hamburger or hot dog! Now featuring Brats and soup as well! As always, we feature $1 Yuengling pints all day!
WEDNESDAY: PIZZA NIGHT
Stop in, visit Amy, and enjoy one of large selection of personal artisan pizzas! Miller Lite pints are $1 all day!
THURSDAY: ROOT THEORY, 7:00 – 9:00 PM
Youngstown's Root Theory is an acoustic duet that covers a variety of classics, folk, pop, and country songs, fronted by the awesome vocal talents of Avonlea Wensel and supported by guitarist/vocalist Jim Stafford.
FRIDAY: QWISTER, 8:00 – 11:00 PM
Qwister is a Reggae, Jam Rocking band out of Jamestown, NY that gigs non stop and is Full Time at it. We look forward to playing the right stages and meeting the right people and making as many friends along the way as humanly possibly!!
SATURDAY: DAVE IGLAR BAND, 8:00 – 11:00 PM
This Pittsburgh-based trio has performed at the Club many times. Gifted guitarist Dave Iglar (of Forcefield, Dave & Shari fame) leads this trio of exceptional musicians including his daughter Andrea (saxophone and guitar), and Mark DeMeno (guitar/bass). Come and see the rock-n-roll Guitarnival!
SUNDAY: SPECIAL SUNDAY SHOW! ANGELA PERLEY AND THE HOWLIN' MOONS, 7:00 – 10:00 PM
Yes, she's back! Angela & Co. are a top-tier original music act from Columbus Ohio, and a fantastic feature to have at our little Club. They always put on unforgettable shows here on our small stage, and we're pleased to have them back again! You don't want to miss this!

Our draft beer selections are always changing. On tap are Old Rasputin Russian Imperial Stout, Blue Moon, Great Lakes Ohio City Oatmeal Stout, Brooklyn Chocolate Stout, Sierra Nevada Celebration Ale, Hamburg Frosty the IPA, Deschutes Jubelale, Spaten Original, Kostritzer Schwarzbier, Weihenstephaner hefeweizen, D.A.B. Dortmunder!

On deck: Brooklyn Winter Lager, Lagunitas Brown Shugga', Dogfish Head Pennsylvania Tuxedo, Rogue Chocolate Stout, Ommegang Lovely Dark and Deep, and Evil Genius Adulting IPA.